Ninth or Tenth Grade
Students begin their academy coursework in the 9

th

grade with an Introduction to Entrpeneurship class. In
this course will provide students with an introduction buisness concepts and
careers as well as the impact
information technology has in the world, people and industry. Basic
dataentry concepts will be introduced
and students will conduct technology career research,
understand operating systems and software applications,
electronic communication and emerging
technologies. In addition, students will be prepared for industry
certification exams in Microsoft
Word, Excel and PowerPoint. Successful completion of these exams will
result in attainment of
industry certification from Microsoft Corporation as Microsoft Office Specialist(s).
Academy of Finance HP and Big Data Experience
Powered by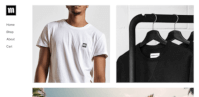 Create your own unique website with customizable templates.