1. NAF graduates complete college faster, earn more and have stronger ties to their communities than their peers
2. NAF students gain exposure to different career paths, helping students to make informed decisions for college attendance and career goals.
3. NAF curriculum is regularly updated to reflect current industry trends
4. NAF students have the opportunity to expand learning beyond the classroom into the workforce
5. The NAF academy is supported by a local advisory board that provides college and career workshops, job shadows, and internships!
6. Students become part of a national network that they can tap into all throughout their careers
7. Students have access to NAFTrack Certified Hiring, a promise to give special consideration to job applicants who, as high school graduates, earned a NAF credential. Several of America's top companies have partnered with NAF on this groundbreaking initiatiive.
Volunteer
Join thousands of volunteers across the country by getting involved with opportunities with H. Grady Spruce High Schools NAF academies! Many opportunities exit for you to share you time and expertise with NAF academy teachers and students. Contact the academy director to learn more at 972-892-5500.
1. Mentor students
2. Present an in-class presentation or workshop about your industry
3. Lead a workshop on rsume writing, interviewing techniques, or other college and career skills
4. Participate in mock and informatinal interviews
5. Host a job shadow
6. Provide a paid nternship
7. Collaborate with teachers to help integrate industry trends into curriculum
​8. Join the
advisory board​
Powered by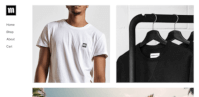 Create your own unique website with customizable templates.